Jackson Hole Wyoming is one of my favorite places in the world. It is a touch of heaven here on earth. After we stayed at Yellowstone we drove around, up and then through the Tetons into Jackson Hole. 
As we drove around the windy roads we stopped at this overlook. The views were outstanding. From the viewpoint I was able to take this photo looking into the valley of Jackson Hole. What an amazing vista, a feast for the eyes. 
There is this friendly western atmosphere when you drive into the town. I could hear the 'awe's from our family members in the car as we entered into the town. It is one of those places where you want to stay a while. Like my dream is to be able to stay there through late spring after the snow is melted to the end of fall before the snow falls again one year and spend time soaking it all in and writing a book and doing a bunch of online marketing:). Tristan asked if we were going to stay for a week in Jackson :). 
The locals are so friendly. I talked to shop owners all along the downtown area to find out where they were from, if they were seasonal, etc. Every person I spoke with lived in Jackson Hole full time and loved living there. The attrition rate of move outs is super low, like less than 6% per year. That means people don't leave. 
We were there in October of this year but before that I had not been to Jackson Hole since 1988. The same shops were still there. The streets looked the same. There was some new build out towards the outskirts of the town, like a new Walmart and some other newer stores and shopping centers. But the downtown area looks like time has stood still. 
Parking downtown is free, no having to pay those meters which helps with the sense of a slower lifestyle. Across the street from where we parked was a local bakery and next door to the bakery I saw a Raw Juice shop. It was the first time on our road trip I found fresh beet juice:). These were old homes that were converted to businesses. I love to talk with entrepreneurs about their dreams and businesses so it was fun meeting the business owners. 
Wort Hotel is a National Historic Landmark and you can stay at the hotel to get a great western feel of this part of the country.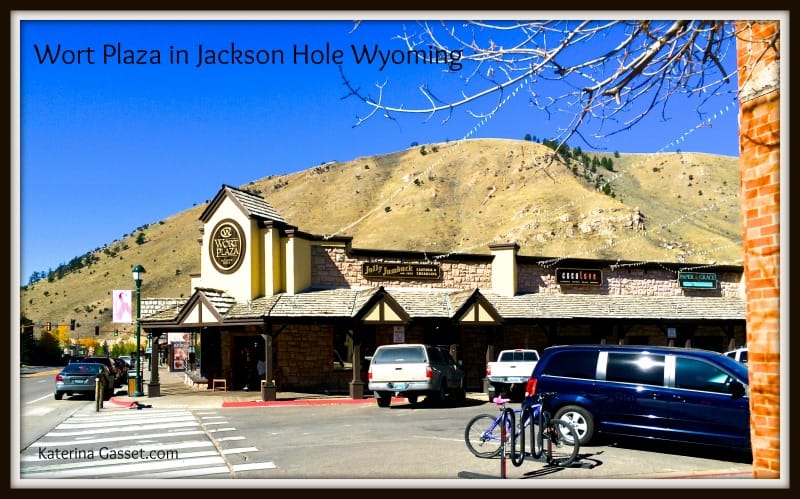 Life is easy to enjoy in Jackson Hole Wyoming. You can take a stroll through the town center park or rest on one of the benches as this couple is doing. The weather was awesome! The air was fresh and the water tasted like natural spring water. 
Going shopping is the big event for tourists that come to Jackson Hole Wyoming but locals shop here as well. You can spend an entire day shopping the downtown area shops. You can find high quality leather goods, western hats and boots, belts, well, all things western. 
We stopped by this real estate office in the middle of the tourist area of the town square. I am sure that nearly everyone that visits Jackson Hole wants to know how much it would be to buy their dream home there. Since land is very scare the properties, ranches and homes are on the higher end of the market. Most of all the land is National Forests so private land is not easy to come by. Only 3% of the land in the area is privately owned. 
The population of Jackson Hole is around 9,500 full time residents. 
Jackson Hole is a business friendly town. If you are thinking of starting a business Jackson Hole may be worth considering. While retail and tourist services have been popular in Jackson Hole, a new breed of entrepreneurs are moving to Jackson Hole – website developers and internet marketers because they can easily work from home. The following is a list of reasons that Jackson Hole might make the list of most friendly to businesses and entrepreneurs: 
No state personal or corporate income tax

No state inheritance tax

No state gift tax

No state tax on retirement income

No state franchise or excise tax

No state tax on real estate sale proceeds

Low real estate property tax

No state tax on mineral interest ownership

No state tax on intangibles
Wyoming is a great state to retire in. There is no tax on retirement income and no inheritance tax. Mind you, the IRS and the FEDs still have taxes that you have to pay. Wyoming is one of the best states to create a family trust in according to the Bank of Jackson Hole trust division. There is also protection from creditors. 
If you are going to move to Jackson Hole Wyoming contact Nestor Gasset and Katerina Gasset today at 561-753-0135. We will assess your needs in housing and place you with one of our colleagues who is licensed to sell real estate in Wyoming who will represent your interests in your home or business purchase.