The Adventures of Whaa Cow at The Cody Hotel in Cody Wyoming- Customer Service Above and Beyond!!!
After spending the night in Custer South Dakota we made our way on our road trip to Cody Wyoming which is about 45 minutes outside of the east entrance of Yellowstone Park. 
The Cody hotel is our favorite place to stay in Cody Wyoming. Cody is a small town in Wyoming of about 9,500 people. 
Tristan and Qing had their favorite little Ty™ Beanie Baby with them who they named, Whaa Cow. Whaa Cow had already been with us for the first several days of our road trip vacation. 
However, when we checked out of The Cody hotel- Whaa Cow was accidently left behind. 
When we arrived in West Yellowstone Montana ~ one of the employees of The Cody hotel called us to let us know he had found Whaa Cow and asked if we would like him sent to our house. I declined since the cost to ship the Ty™ stuffed animal was WAY more than the $8 that it would cost to simply buy another one exactly the same. Qing also agreed that it was not worth the expense and we sort of forgot about Whaa Cow. 
The other day Tristan received photos from Qing that the staff at The Cody took it upon themselves to ship Whaa Cow back to Qing at their own expense. But not until after Whaa Cow had some of his own adventures to share: 
Qing received Whaa Cow in this well packed shipped package with a half eaten cookie and a whole cookie. Whaa Cow could not be deprived of food along his journey home. 
Not only were there these cookies in the box with Whaa Cow but also these amazing photos of his adventures staying at The Cody hotel! 
And then there was this letter enclosed of all of his adventures.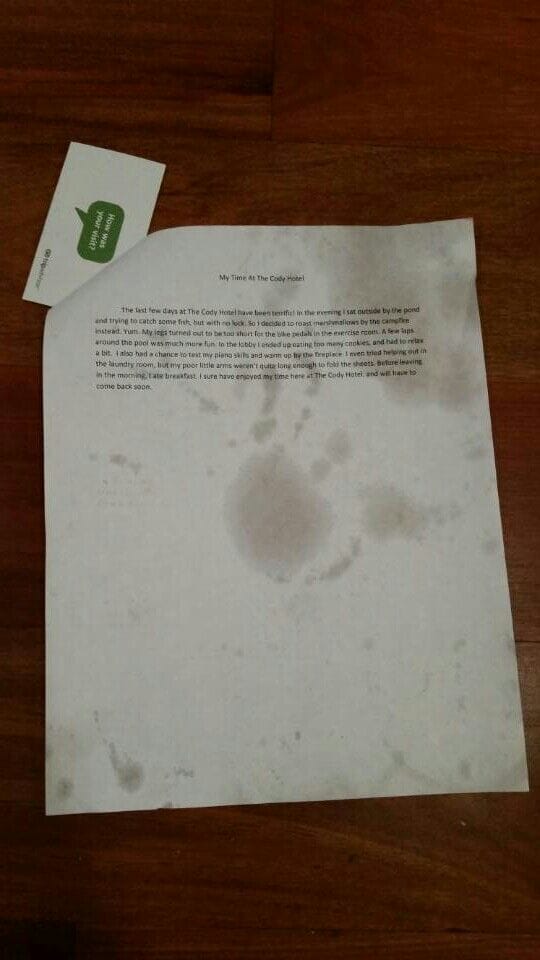 Here are the words from his letter: 
"The last few days have been terrific! In the evening I sat outside by the pond trying to catch some fish, but with no luck. So I decided to roast marshmallows by the campfire instead. Yum. My legs turned out to be too short for the bike pedals in the exercise room. A few laps around the pool was much more fun. In the lobby I ended up eating too many cookies, and had to relax a bit. I also had a chance to test my piano skills and warm up by the fireplace. I even tried helping out in the laundry room but my poor little arms weren't long enough to fold the sheets. Before leaving in the morning, I ate breakfast. I sure have enjoyed my time here at The Cody Hotel and will have to come back soon." 
What amazing and creative staff at The Cody Hotel in Cody Wyoming. They have definitely created raving fans here!  The example of customer service and taking something as small as a Ty stuffed animal and turning it into such a fun and creative adventure goes way above and beyond any hotel guest's expectations. 
This is also a great example of top notch marketing making a lasting impression on their hotel guests!
Kudos to the hotel staff at The Cody Hotel in Cody Wyoming!!!